The British Occupational Hygiene Society (BOHS) is delighted to announce the election of Chris Keen as the new President following the AGM on 4th May 2022. Chris is the first member of the Health and Safety's Executive Science Division and the first transgender woman to become BOHS President and will lead the Society's efforts to promote sustainable workplace health for the 2022-2023 presidential term.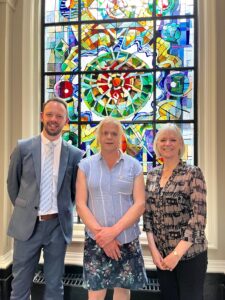 Chris Keen is the technical lead for Occupational Hygiene at HSE's Science and Research Centre in Buxton. She has been an active member of BOHS for many years and was elected to the BOHS Board of Trustees in 2019. Chris is a passionate advocate of therole that occu
pational hygiene should play in protecting the health of workers globally and her presidential year focus will be on BOHS interfacing more extensively with stakeholder groups and communicating the value Occupational Hygiene adds in helping to manage health risks effectively.
Chris commented on her new role:
I'm so pleased to take over the Presidency of BOHS. The Society have done so much to protect workers health in the UK, and globally, for almost 70 years.

It's an absolute honour to become the President of the society, and I'm looking forward to helping us achieve even more over the coming year
Chris will be supported by the new President-Elect, Alex Wilson, Immediate Past President, Alison Margary and the members of the Board. The Board of Trustees is composed of 15 highly experienced professionals in different fields of worker health protection, who will contribute to successfully accomplish the Society's goals and mission to safeguard the UK's current and future health through the effective management of the workplace environment.
Alison Margary, BOHS immediate past-president welcomed Chris: "I am delighted to be handing over the BOHS presidential reins to Chris Keen whose extensive experience, coupled with her enthusiasm and energy, will serve the Society well over the coming year. Chris' theme to take our prevention message into hard-to-reach work communities is testament to her determination to make a difference and I have no doubt will also serve to support and extend our presence via new collaborations. I am looking forward to working with Chris, Alex Wilson and the new Board over the coming year as Immediate Past President as the Society continues full steam into the second year of its current 5-year strategy to deliver its Strategic Aim: 'To position BOHS as the key scientific and professional body influencing change towards a healthier working environment.'.
Kevin Bampton, CEO of BOHS said: "BOHS Leadership goes from strength to strength, showcasing the diversity of the profession that so many people rely on to ensure a healthy working life and quality of life in retirement. Chris brings years of scientific expertise, a truly practical and pragmatic disposition and a passion to ensure that no worker is exposed to cancer, respiratory illness and other avoidable diseases which currently blight the lives of 1.6 million people in the UK. I am particularly delighted that our membership have voted in a transgender woman. It highlights an inclusive culture that values every individual. The new Executive team have ambitious plans for the future of health protection in the workplace."
Source – BOHS