63 years ago the world became a whole lot safer with the introduction of the three-point seat belt we are familiar with today. This invention is still seen as the world´s most important traffic safety innovation ever and is estimated to have saved more than one million lives.
Using a seat belt can mean the difference between life and death. Reports show that the chances of surviving a serious road accident are doubled if the driver and passengers take the time to buckle up. Within the EU alone, 7000 lives would be saved every year if more people chose to use a seat belt.
A brief history of the seat belt.
In 1959, the Volvo engineer Nils Bohlin developed the modern three-point seat belt. Although the design was patented, the company decided the patent was to be left open, making it available to all vehicle manufacturers to use for free. This rather unconventional decision was made in the greater interest of public safety, to ensure that everyone, independently of whether they drove a Volvo or not, could be safer in traffic. This decision proved to be very beneficial to the world.
Today the three-point seat belt is an absolute requirement in all cars, trucks and partly in buses. So, you could say that there is a little – but very important – part of Volvo in every vehicle on the road.
Not yet a standard in our industry.
The seat belt has been credited with saving more than one million lives and is widely considered among the most cost-effective public health interventions. It has also prevented or reduced the severity of injuries among many millions of other road users.
Volvo Buses has introduced the three-point seat belt on all seats in the early 1990's. During the years many still felt skeptical whether this kind of protective measure would improve safety enough to constitute it. "In 2001 we have done a full roll over test with both unbelted crash dummies and the belted ones wearing two, respectively three-point seat belts" – says Peter Danielsson Safety Manager at Volvo Buses. "The results were undisputable – occupants wearing three-point seat belts got by far less injuries and would most likely survive in the real situation" – he explains.
With all the knowledge we have today the importance of the three-point seat belt should be obvious, particularly when it comes to intercity and long distance travels where the vehicle cruises at the higher speeds. Unfortunately legal requirements still only applies to the driver, guide and some more exposed passenger seats. So, Volvo Buses continue to advocate for all bus occupants until it become a standard feature. And the safety awareness grows – today in Europe over 60 percent of the Volvo coaches are sold with the three point seat belts and in Scandinavia 100 percent. Also a high percentage of the intercity buses that Volvo sells in Scandinavia is equipped with three point seat belts.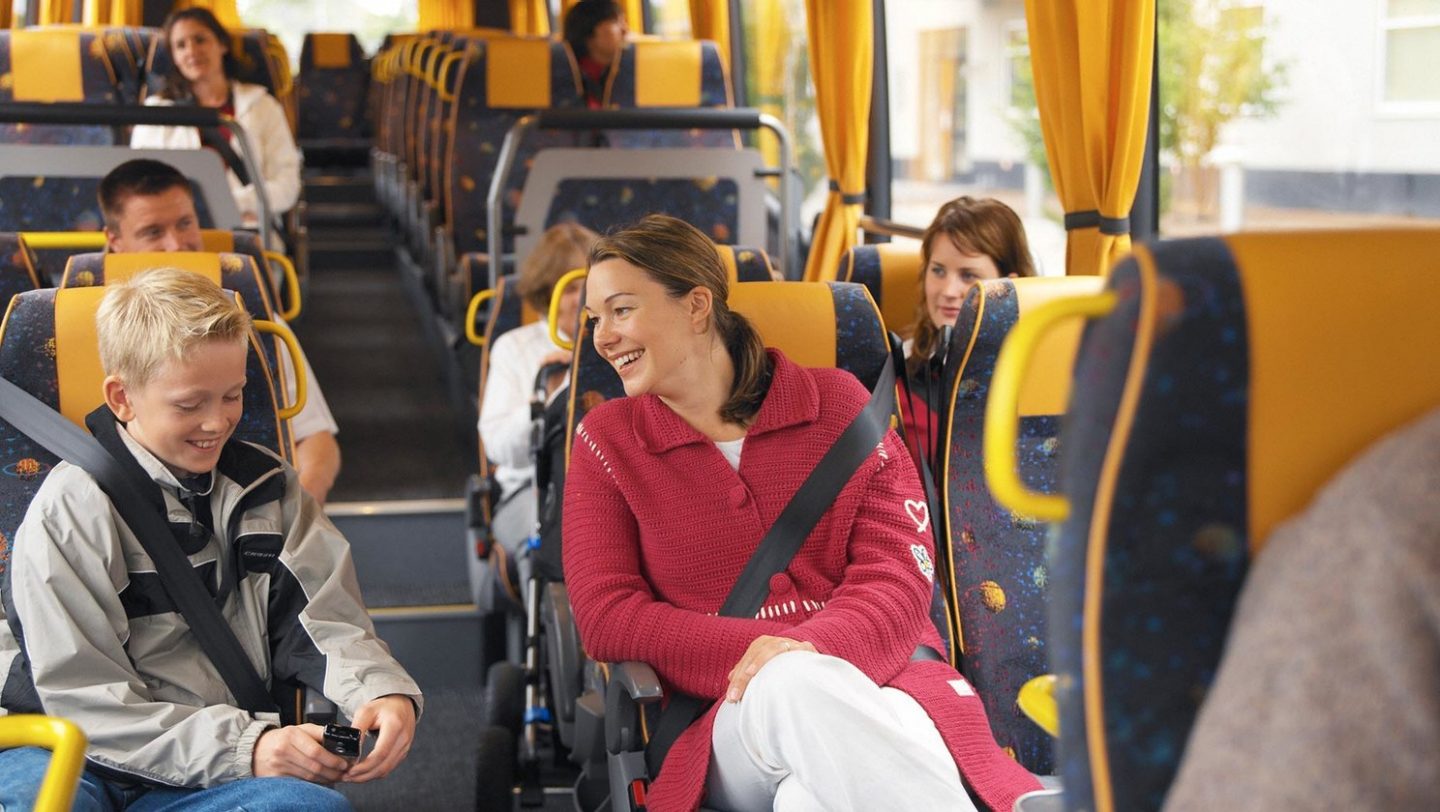 Buckle up. Save lives.
Regardless of what kind of safety belt a bus features, there are still many passengers that don't use it. "Volvo Buses recently made a survey covering seven countries in Europe and a total of 6000 passengers. One question regarded the usage of seat belts in coaches. Of the passengers from Sweden eight out of ten answered that they used the seat belt on a regular basis. In Italy the same figure where three out of ten. There is an important need to increase the belt usage to 100 percent. Since most people always use the seat belt in passenger cars why should we not use it in buses?" says Peter Danielsson and ads: "One may feel safe sitting high up in a coach not using the seat belt, but in a collision where passengers not using the belt are thrown out of the windows only half of them survives. The cheapest and most simple life insurance while traveling by coach or bus is to use the seat belt".
At Volvo Buses we are doing everything we can to encourage operators and their drivers and passengers to use seat belts. Seat belt reminders, safety cards in seat pockets and onboard safety instruction films are just some examples, but more can be done.
"If we are to come closer to the Volvo Group zero vision regarding traffic accidents, it´s important to increase awareness and make sure that bus and coach passenger's always make use of the seat belt" concludes Peter Danielsson.
Source – Volvo.com